From professional certifications, to serving practices and off-flavor recognition, we can cater to a variety of professional training and education.
Professional Certifications
Detailed training in preparation of the two major certifications for bar and restaurant personnel involved with serving beer.
* Texas Alcohol Beverage Commission Certification: The TABC certification can be obtained by those who have a demonstrated ability to identify and prevent sales of alcoholic beverages to minors, intoxicated persons, and non-members of a private club. While we cannot offer a state authorized training yet, we can help your staff prepare for the class and increase their chances at success.
* Cicerone Certified Beer Server certification: The Cicerone® Certification Program offers four different levels of certification for industry professionals. It has become the industry standard for identifying those with significant knowledge and professional skills in beer sales and service. We offer preparatory training to achieve the first level certification and help your staff achieve the Certified Beer Server certification
Our training is not affiliated with or endorsed by the Cicerone® certification program
Serving practices
We will come to your venue and work with your staff, your food and beverage menu, available equipment and glassware to train your staff on a variety of serving practices. During this session we cover topics such as: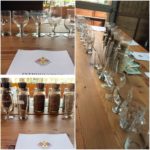 * Appropriate beer glassware
* Beer styles
* Responsible serving practices
* Beer recommendations leveraging your menu and beer offering




Off-Flavor training
Beer can demonstrate a variety of off-flavors. Either as a result of brewing defects or following improper packaging, handling or storage. We offer two levels of training in off-flavor recognition. An introductory session covering the six most commonly found defects and a more in-depth study which covers a total of twelve off-flavors. While the introductory session can be covered in one session, the in-depth study requires a minimum of two sessions.
Included in this session are food grade and safe flavor and aroma compounds, used in professional sensory training and procured via the Siebel Institute.
The content of each training can be completely customized to your needs, so don't hesitate to contact us so we can design a custom training for you and your staff