An event which can last from a few hours, to a full four week course diving into all aspects of craft beer
Ask anyone who has know Michael for more than a few days and they all will agree on one thing: He has a passion for beer. Since he grew up in Belgium, beer has been a part of his life since childhood. Ask him to tell the story about when he had his first soda. Or when was the first time he had beer. (Hint: there's something called "Table beer" in Belgium).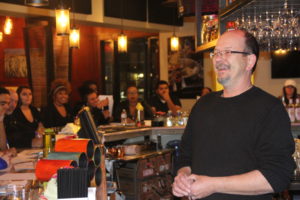 In addition, he is also an award winning home brewer and he is always excited to have some come over during a homebrew session, or come to your house and teach you how to start on the road of this exciting and fun hobby. Looking for a birthday gift for your significant other ? Michael can procure a beginners homebrew kit and come teach him or her how to get started.
Finally, he has taught multi-week classes in which he will cover anything from brewing processes, beer styles and their respective history, ending with a beer and cheese evening. We like to call it "Beer School" and we can organize it anywhere/
Are you a restaurant and want to attract more craft beer clientele ? Why not have a question and answer discussion about any given beer topic. Cover a certain beer style, with accompanying samples, discuss the growth of the North Texas craft beer scene or have a free flowing question and answer evening with a Certified Cicerone®.
Are you a craft beer aficionado who has a hard time convincing your friends to jump from macro beer to craft ? Or want to have an evening at your house discussing a beer topic? Or a beer style? Or a combination of all of the above? We have done several and as always, we'll cater it to what you'd like.
Beer styles: A discussion on different beer styles and why they matter. Included in the class are copyrighted hand-outs that Michael developed covering color, bitterness, alcohol content, etc.. And those are yours to keep.
Beer history: Beer has been around for 10,000 years and over the course of history we have seen many changes. We'll cover Mesopotamia over European monastic influences, German legislation all the way to modern day interpretations
Introduction to beer: A one evening event in which we'll cover brewing process and styles. It's a shortened and more high-level version that combines the "Beer Styles" event and a summary of what is covered in the more elaborate "Beer School" engagement below. This is perfect event to introduce people to the wonderful world of flavorful craft beer.
Beer School: A full-blown four week class in which we cover brewing processes, off-flavors, beer styles and finish with a beer and cheese pairing.
Since all events are completely catered to your needs, please contact us to discuss how we can help you.